Posts: 221
Joined: Fri Apr 01, 2011 9:48 am
Posts: 32
Joined: Tue Oct 12, 2010 10:43 pm
Location: SoCal
Whoa, hold the phone...that's some news!
They should bring these Magnum Mega-Tom monsters back. Might not sell any but...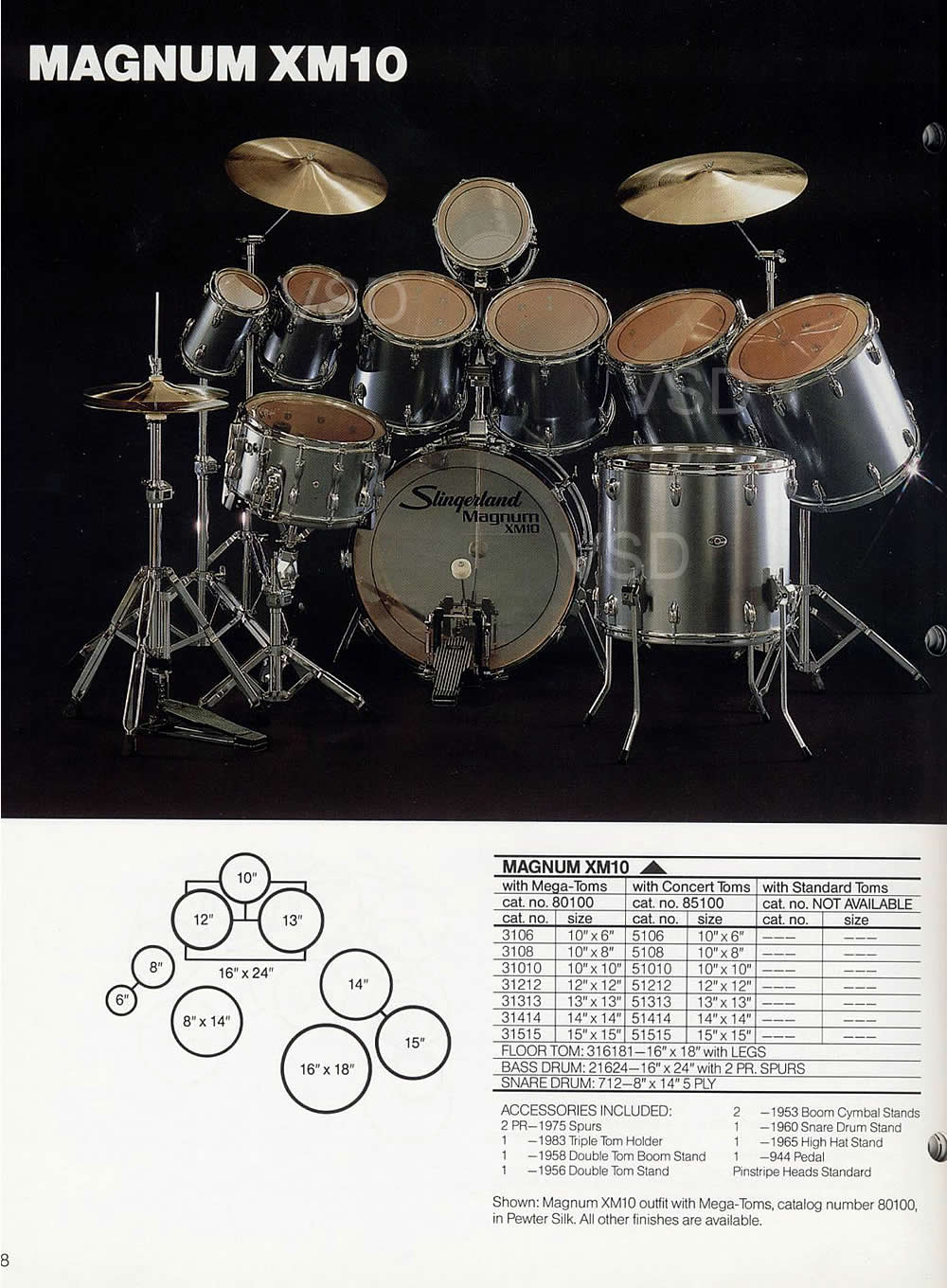 I hope they make them like they did in the mid-1990s when Gibson owned them and they were made in Nashville, TN. Those drums were flawless. Gregg Bissonette had a signature kit from that era. Highly-regarded drum builder Sam Bacco, now the production manager of Craviotto drums, was in charge of building those Nashville-era Slingerlands. I would argue that they were just as good, if not better, than the best Gretsch kits. I wish I would have gotten one of those mid-1990s kits.

Anybody else remember those mid-1990s/Nashville-era Slingerlands?
drumpal wrote:Anybody else remember those mid-1990s/Nashville-era Slingerlands?
I haven't owned one, but one of the best drum kits I've ever heard was a set of Slings from that era. A drummer named Leif Bondarenko in Birmingham has one, and I've heard it in multiple venues. Always spectacular (Leif is also a great player, which of course has a lot to do with it). Sat in on that kit once or twice and always loved the sound of it.
At this point, what
doesn't
DW own though? Anyways, I hope they strive to retain a character and identity to the drums that goes beyond aesthetics... maybe kind of like what Bill Detamore and Steve Maxwell did recently bringing back the Dynasonic. Looking forward to hearing them in the future.
Posts: 1730
Joined: Fri Jul 20, 2012 2:39 pm
Location: Los Angeles, CA
Funny! I expected to see North drums mentioned, or Staccato.
Posts: 1280
Joined: Tue Oct 12, 2010 8:04 am
Location: The physical plane.
Contact:
Paul Marangoni wrote:https://youtu.be/xgjARmMZ4ro
Too spicy For Norway, apprently.
---
Who is online
Users browsing this forum: No registered users and 11 guests